The Adriatic LNG Terminal Inauguration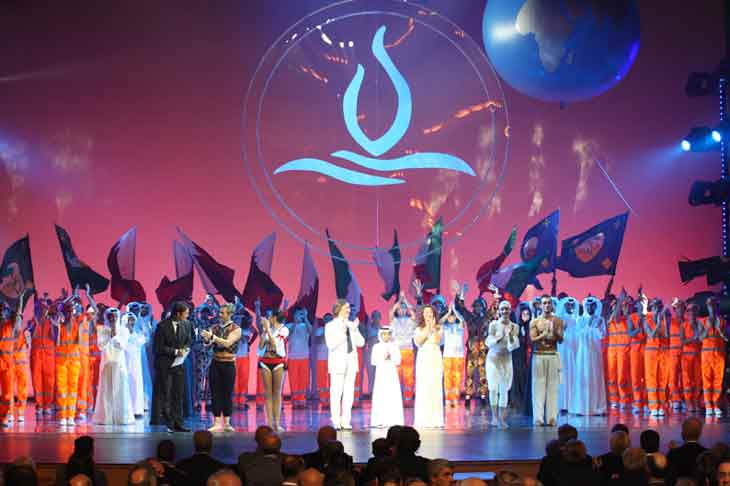 The Amir of Qatar in the presence of the Italian Prime Minister inaugurated the Adriatic LNG regasification terminal which will deliver 10 percent of Italy's gas requirements.
Venice (Italy) – October 19th, 2009 marked the inauguration of the Adriatic LNG Terminal which took place at La Fenice Theatre, Venice, in the presence of His Highness The Amir of Qatar, Sheikh Hamad bin Khalifa Al-Thani and the President of the Council of Ministers of the Italian Republic, Silvio Berlusconi.
The Adriatic LNG Terminal, located offshore of Porto Levante, in the Northern Adriatic Sea, about 15 kilometers off the Veneto coastline, is the first offshore Gravity Based Structure in the world for unloading, storage and regasification of Liquefied Natural Gas (LNG).
The terminal has been designed, built and is operated by Terminale GNL Adriatico (Adriatic LNG), the joint venture between Qatar Terminal Limited (45 percent), ExxonMobil Italiana Gas (45 percent) and Edison (10 percent). Qatar Terminal Limited is a 100 percent owned subsidiary of Qatar Petroleum.
This state-of-the-art energy facility has been designed around a large concrete structure, which houses two LNG tanks, and includes a regasification plant and facilities for mooring and unloading LNG vessels.
Most of the gas destined for the Adriatic LNG Terminal will come from the giant North Field off the coast of Qatar, the largest non-associated natural gas field in the world, with estimated recoverable reserves in the range of 25,000 billion cubic meters (900 trillion cubic feet).
The Adriatic LNG Terminal adds to Italy's LNG import capacity and energy diversity, with the ability to deliver into the national gas grid up to 8 billion cubic meters per year (775 million cubic feet of natural gas per day), approximately 10 percent of the country's natural gas consumption.
Eighty percent of its capacity will be utilized by Edison for a period of 25 years, to regasify LNG imported from Qatar's North Field, as part of the supply agreement with Ras Laffan Liquefied Natural Gas Company Limited II (RasGas II). The remaining 20 percent is open for third party allocation, out of which 12 percent has already been allocated according to the procedures defined by the Italian Ministry of Economic Development and the Regulatory Authority for Electricity and Gas.
"We are proud to celebrate another milestone achieved under the wise leadership and directives of His Highness, the Emir of the state of Qatar, Sheikh Hamad Bin Khalifa Al Thani who set the strategy to achieve optimal utilization of our country's natural resources. This inauguration of the Adriatic LNG Terminal marks a major achievement in a journey which we began in 2001 when the sale of LNG from Qatar to Italy was first agreed" said H.E. Abdulla Bin Hamad Al-Attiyah, Deputy Premier and Minister of Energy & Industry of the State of Qatar and Chairman of the Board of Directors and Managing Director of Qatar Petroleum – "The Terminal not only represents an example of true cooperation and mutual interest between the two friendly countries, Qatar and Italy, but extends beyond that. It represents a significant technical and economic collaboration between the three stakeholders in the project, as well as numerous other specialized companies and organizations from around the world involved in the many aspects of the project."
Andy Swiger, Exxon Mobil Corporation Senior Vice President, said, "By any measure, the Adriatic LNG Terminal is an extraordinary project. It is on the cutting-edge of technological innovation, engineering ingenuity and long-range vision. It is an impressive example of the benefits of international collaboration. Through the expertise of its shareholders and many service providers around the world, the Adriatic has the world's first offshore concrete gravity based LNG regasification terminal that will bring diversity of supply to Italy."
Umberto Quadrino, Edison CEO pointed out: "From today our country will have a unique infrastructure in the world which strongly helps strengthen Italy's energy security by covering by itself 10 percent of the country's gas needs. Rovigo's terminal also opens a new supply route from Qatar, thus making Italy a relevant European market for the Emirate. For Edison, which believed in this ambitious project since the beginning, the new availability of gas strengthens its competitive position on the Italian market. Thanks to the 6.4 billion cubic meters of gas a year allocated to our Company, we are able to further improve our supply portfolio, with obvious advantages in terms of market competition and benefits."
Saad Sherida Al-Kaabi, Director Oil & Gas Ventures for Qatar Petroleum and Chairman of Adriatic LNG noted: "Our Terminal is the key infrastructure needed to provide Italy with a major new source of imported energy. This world class accomplishment would not have been possible without the dedication of our employees, contractors and suppliers, the exceptional support from our shareholders and the invaluable co-operation of the authorities and community."