LNG History
---

British chemist Michael Faraday was the first to experiment with the liquefaction of natural gas. In 1873, German engineer Carl von Linde built the first compression refrigeration machine.
1912: First experimental plant designed to store LNG (Virginia, USA).
1941: primo impianto commerciale di liquefazione con stoccaggio del GNL in serbatoi a pressione atmosferica (Cleveland, Ohio, USA).
1959: The first LNG experimental carrier was called Methane Pioneer and left the Louisiana Gulf headed to the UK.
1964: First commercial shipment of Algerian LNG to UK and France. The Algerian plant of Arzew was the first high capacity liquefaction terminal.
1969: Further exchanges took place between Algeria and France, Libya and Italy, and Spain and Cook Bay in Japan (this was the first project in the Pacific area).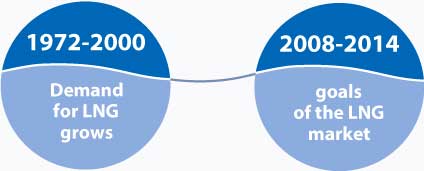 1972-1978: The US joins the LNG market, introducing four regasification plants.
1973: First LNG import operations from Brunei to Japan; the Pacific area starts playing an important role when Korea and Taiwan join in as importing countries.
The 90's: Rise of the Atlantic area markets (Europe, North America).
2000: The market for LNG grows exponentially. Between 2000 and 2011 the annual average growth is equal to 7.5%, outdoing 300 billion of cubic meters (gaseous state).
2008: The largest LNG carrier is called the Mozah, with a capacity of 266, 000 cubic meters. Built by South Korean Samsung Heavy Industries for Qatargas and Nakilat, Mozah is the first of 14 Q-Max ships developed after the 216,000 cubic meter Q-Flex, and used to transport LNG from Qatar to Europe and from the US to the Far East.
2013: Approaching 75% of the world's imports, Asia's demand for LNG continues to grow.
2014: The LNG global market celebrates 50 years of history with about 80,000 transfers without significant accidents.